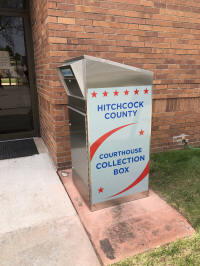 Our drop box has been installed. It is located near the northwest door of the courthouse
Surplus Office Chairs
The Hitchcock County Board of Commissioners will offer to the public 18 surplus office chairs. Said chairs will be available for inspection in the main lobby of the courthouse beginning Wednesday, December 6th, 2023 at 8:30 a.m. and will be sold on a first come first serve basis.
Notice to Landowners (fencing-irrigation)
Bidding Information
None at this time
Employment Opportunities
Employment Application Driver | Employment Application General
Part-time Highway Superintendent Opening
The Hitchcock County Board of Commissioners will be accepting applications for a part time Highway Superintendent. Duties include but are not limited to, preparation and submission of state reports including the System of Annual Reports and the 1 & 6 year road plan. Qualifications: active State of Nebraska Class A or Class B Highway Superintendent License; valid Nebraska motor vehicle operator's license; experience in computer operation, construction management, highway and bridge construction, and road construction and maintenance; knowledge of design/construction and materials/equipment for roads and bridges; familiarity with surveying techniques; and ability to inspect road and bridge work. Salary based on the annual state reimbursement to the county for road superintendent services. Qualified applicants may submit resumes/applications by 10:00 a.m. on November 6th, 2023 to Hitchcock County, PO Box 248, Trenton, NE 69044. 308/334-5646 EOE
ZONING & RIGHT OF WAY PERMIT NOTICE
Pursuant to Section 804 of the Hitchcock County Zoning Regulations, no building, structure, or land shall hereafter be used or occupied, and no building or structure or part thereof shall hereafter be erected, constructed, reconstructed, enlarged, moved, or structurally altered without a Zoning Permit/Certificate of Zoning Compliance first being issued by the Zoning Administrator. Be advised that any of the above actions commenced prior to issuance of all required permit(s) or variance(s) in accordance with zoning regulations constitutes a violation of current Hitchcock County zoning regulations and is punishable by law. Applications for Zoning Permits or Certificate of Zoning Compliance are available at the Hitchcock County Zoning Administrator's office at the courthouse.
Be advised that an Application to Occupy Hitchcock County Road Right-of-Way must be completed, submitted and approved by the Hitchcock County Board of Commissioners before entering upon any Hitchcock County road right-of-way for the purpose of burying, maintaining and repairing of any underground utilities including waterlines. Applications for Right of Way permits are available at the Hitchcock County Clerk's office.
Forms may also be obtained from the County's website at: http://www.hitchcockcounty.ne.gov .
Hitchcock County Board of Commissioners
County Government Day
Seniors represent Hitchcock County and Wauneta Palisade schools in County Government Day.
| | |
| --- | --- |
| March 11, 2019 | |
| March 12, 2018 | March 13, 2017 |
| March 14th, 2016 | March 9th, 2015 |
County Officials Graduate from Leadership Training
KEARNEY, NE. — Nineteen county officials from 14 counties received Certificates of Achievement for their participation in the Nebraska Association County Officials (NACO) Institute of Excellence. The Institute of Excellence is collaboration between NACO and the University of Nebraska. It provides leadership development for elected, appointed county officials and tangential officials.
The officials were honored during a presentation at NACO's annual conference in Kearney, Wednesday, December 13th. Hitchcock County Commissioner Scott McDonald was awarded a certificate by Nebraska Extension District Director, Dr. Kelly Bruns and NACO President and Holt County Commissioner, William Tielke. The Institute includes face-to-face workshops in North Platte and Lincoln, however, the 2017 class met in Grand Island. The face-to-face sessions were taught by faculty from Nebraska Extension, the UNL Department of Agricultural Leadership, Education and Communication and the UNO Centers for Public Affairs Research, as well as Larry Dix, NACO's Executive Director.
According to the program's co-coordinator, Nebraska Extension Educator, Carroll Welte, "the Institute provides county officials an opportunity to learn more about themselves as leaders to better serve their counties and constituencies."
Since 2010 the Institutes of Excellence have been open to all county officials. Information materials for the 2018 program will be on the Nebraska Association of County Officials website, nebraskacounties.org. For more information about Nebraska Extension leadership programs, contact extension educator, Carroll Welte at cwelte1@unl.edu or 402.374.2954 or Jessica Jones at Jessica.jones@unl.edu or 402.335.3669.
Hitchcock County Attorney Named Prosecutor of the Year by Nebraska Conservation Officers Association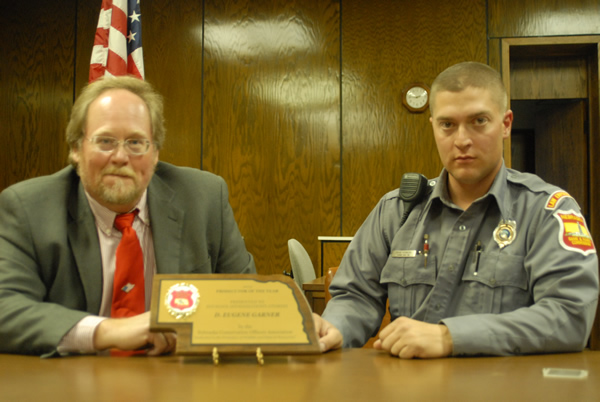 D. Eugene Garner, left, was named the "2015 Prosecutor of the Year" by the Nebraska Conservation Officers Association. Brian Piernicky, right, a Conservation Officer with the Nebraska Game & Parks Commission, assigned to Southwest Nebraska for the last 4 years, nominated Garner for the award. Piernicky said of Garner, "Gene takes a very proactive approach in prosecuting game law violation cases". The Association, organized in 1969 currently has approximately 50 members, and is "Dedicated to the Protection of Wildlife and Natural Resources".
Garner, an avid outdoor enthusiast himself, says "I am truly honored to be recognized by the Nebraska Conservation Officers Association for my efforts in prosecuting poachers. When individuals unlawfully harvest wild game or fish, not only do they violate the law, they disrespect the landowners who provide the food and habitat for our wildlife, and they also disrespect those natural resources that are so important to us." "Often times the law abiding hunters and fishermen receive a "bad rap" because of a poacher's actions." Garner adds "Poaching is not a "victimless crime". "Poaching is a crime of selfishness and opportunity. Poachers steal from all of us, whether you are into hunting, fishing, photographing or simply enjoying wildlife." Garner states that "We must work together to preserve this natural resource and our hunting heritage for future generations. It is incumbent upon each and every one of us to help educate our youth as to "fair chase" and the "right way" to hunt and fish" and "We must lead by example."
Garner points out that over the last few years, he has successfully prosecuted numerous game and fish violations, resulting in several thousand dollars in liquidated damages being paid to the State of Nebraska for unlawfully taken wild game and fish and also resulting in the Courts revoking numerous hunting and fishing licenses/permits of poachers. Garner stresses that successful prosecution of any crime, including game law violation(s), requires a collaboration of efforts between the law enforcement officer(s)/agency(s) investigating the crime and the County Attorney prosecuting the offender(s). "While we each have a different role in the process, we all have a common goal...to catch and convict the perpetrator(s) so that they can be appropriately punished by the Courts in accordance with law."
"I have been extremely fortunate to have the opportunity to work with the many dedicated law enforcement officers, including the Conservation Officers, serving Hitchcock and Hayes Counties. These men and women work extremely hard every day to protect our communities through the enforcement of the laws of this great State." Garner is the County Attorney for Hitchcock County and Hayes County.
C.O. Brian Piernicky is the Southwest District Rep for the Nebraska Conservation Officers Association.
Veteran's Memorial Dedication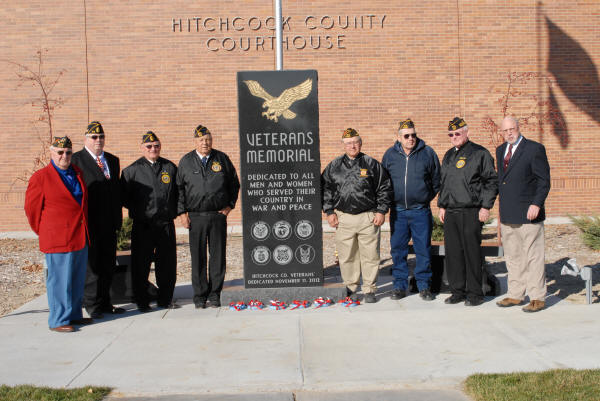 The dedication of the new Veteran's Memorial was held in Trenton on 11-11-12. Veteran's Memorial Committee members pictured are (left to right) Wag Wagner, Richard Alan Baxter, Art Skinner, Don Keller, Frank Stehno, Robert Brown, Jerry Williams and VSO Barry Corder.